Les mœurs éditoriales d'Outre-Atlantique, propagées de plus en plus par la mondialisation et le poignant désir d'être édité à l'heure ou s'écroulent les empires, sont le cœur même de ce récit clos sur une triple naissance: celle de Dieu, du livre et de l'enfant.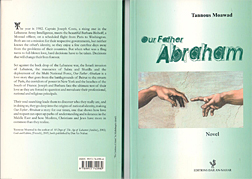 The year in 1982. Captain Joseph Costa, a rising star in the Lebanese Army Intelligence, meets the beautiful Barbara Bishoff, a Mossad officer, on a schedules flight from Paris to Washington. Both are on a mission for their respective governments, but neither knows the other's identity, so they enjoy a few carefree days away from the problems of their countries. But when what was a fling turns to full-blown love, hard decisions have to be taken. Decisions that will change their lives forever. Set Against the back drop of the Lebanese war, the Israeli invasion of Lebanon, the massacres of Sabra and Shatilla and the deployment of the Multi National Force, Our Father Abraham is a love story that goes from the battlegrounds of Beirut to the streets of Paris, the corridors of power in New York and the beaches of the South of France. Joseph and Barbara face the ultimate test of their love as they are forced to question and reevaluate their professional, national and religious principals. Their soul searching leads them to discover who they really are, and in doing so, they go deep into the origins of national identity, making Our Father Abraham a story for our times, one that shows how love and respect can open up paths of understanding and tolerance in the Middle East and how Muslims, Christians and Jews have more in common than they realize.
The response of an autocratic nation's armed forces is crucial to the outcome ofdemocratization movements throughout the world. But what exact internal conditionshave led to real-world democratic transitions, and have external forces helped or hurt?Here, experts with military and policy backgrounds, some of whom have played a rolein democratic transitions, present instructive case studies of democratic movements.Focusing on the specific domestic context and the many influences that have contributedto successful transitions, the authors write about democratic civil-military relations infourteen countries and five world regions. The cases include Argentina, Chile, El Salvador,Egypt, Hungary, Indonesia, Lebanon, Nigeria, Philippines, Senegal, South Africa, Spain,Syria, and Thailand, augmented by regional overviews of Asia, Europe, Latin America,North Africa and the Middle East, and sub-Saharan Africa.
Contributors: Richard Akum (Council for the Development of Social Sciences in Africa), Ecoma Alaga (African Security Sector Network), Muthiah Alagappa (Institute of Security and International Studies, Malaysia), Suchit Bunbongkarn (Institute of Security andInternational Studies, Thailand), Juan Emilio Cheyre (Center for International Studies, Catholic University of Chile), Biram Diop (Partners for Democratic Change African Institute for Security Sector Transformation, Dakar), Raymundo B. Ferrer (Nickel Asia Corporation), Humberto Corado Figueroa (Ministry of Defense, El Salvador), Vilmos Hamikus (Ministry of Foreign Affairs, Hungary), Julio Hang (Argentine Council for International Relations), Marton Harsanyi (Stockholm University), Carolina G. Hernandez (University of the Philippines; Institute for Strategic and Development Studies), Raymond Maalouf (Defense expert, Lebanon), Tannous Mouawad (Middle East Studies, Lebanon), Matthew Rhodes (George C. Marshall European Center for Security Studies), Martin Rupiya (African Public Policy and Research Institute), Juan C. Salgado Brocal (Academic and Consultant Council for Military Research and Studies, Chile), Narcيs Serra (Barcelona Institute of International Studies), Rizal Sukma (Centre for Strategic and InternationalStudies, Jakarta).